We develop our products continously to give you the best options for quality, economy and environment. We apply the same principles to all our products, regardless if they are Green World classified or not - we minimize the impact on Health and Environment as possible without compromising on the quality of the product - for your safety, economy and efficiency.
Power Lube Plus
Avoid problems with rusted or damaged nuts and threads that seize together. Use Power Lube Plus when mounting each time. Power Lube Plus is the replacement for Power Lube, which is now both Green World and NSF classified and thus provides a significant environmental improvement.
Flow Tech - Green World
Now the lubricant product Flow Tech has undergone an update with even better performance and has at the same time been upgraded to become a Green World product.
Lubricates with extremely low friction coefficient due to very high PTFE content and with long-lasting effect.
Has excellent penetrating properties that reach even the smallest cavities, also works great as a rust remover.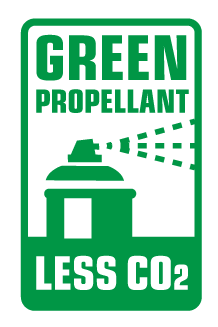 Green propellent - a fantastic green step that we are proud of!
Intelligent product development reduces the CO2 emissions by 100 tonnes each year!
VEIDEC continue its work towards a greener future. Reduction of greenhouse gases is an important goal for VEIDEC, and therefore we replacing the propellants propane and DME - which are traditionally produced from oil and gas - to CO2-neutral propellants in all our aerosols.
The propellants, with exactly the same chemical composition, are produced as a by-product in the production of biodiesel, which in turn is produced from sustainable raw materials. In this way, no new CO2 is added, which means a big step forward in the sustainability work.
-The gases create a natural residual product and are collected and used instead of being released into the fresh air. VEIDEC expects the measure to provide annual savings of approx. 100 tonnes carbon dioxide for 2021, says the product manager Johnny Haraldsson.
The shift began last year, and the reduction is about 80 grams of carbon dioxide per aerosol. The products are marked with the label "Green Propellant".
White Lube Pro 150 ml
Now in an updated pressure pack we have this ceramic, metal-free and advanced anti seize and mounting paste for all types of assembling applications which are normally treated with metal containing pastes like copper pastes and alu-pastes.
This high performance product withstands very high pressures and temperatures up to 1700 degrees Celsius, is Green World classified and NSF H1 food grade approved.
Alco Dispenser
Application of disinfectant from bottle with pump can be perceived as unhygienic, especially when there are many users.
Alco Dispenser provides application completely without direct contact which effectively prevents cross-infections of bacteria, viruses and dirt. Fast, easy and very cost effective.
Shop Display
Product that improves exposure and the accessibility of 75ml and 500ml aerosols.
Luxury Box
Keeping clean and disinfecting regularly in vehicles is important but can be difficult as you rarely have the products readily available.
Luxury Box is an exclusive and very practical package that contains Alco Spray 300ml, Super Foam Auto 300ml, the microfiber cloths Micro Glass and Micro Gloss. It is specially designed and perfect for use in vehicles with superior products to keep clean and protect the user from bacteria and viruses.
Rubber paws in the bottom make the packaging stable and prevent it from slipping around and the edge of the lid is magnetic. It is also suitable for other variants of 300ml aerosols if you want to update with other products.
Micro Polish Foam
Keeping vehicles clean and tidy requires equipment, chemicals and premises and is time-consuming. Micro Polish Foam is a new developed speed polish that cleans and provides a high shine surface without the need for water or other chemicals. Leaves no visible residues and can be applied to both dry and wet surfaces. Makes the water to pearl and roll off.
Excellent for varnished and painted surfaces, chrome, glass, also moldings and rubber, mirrors, tiles and other hard surfaces.
Disinfect Here Display
Taking responsibility for others and oneself and disinfecting regularly is important.
Therefore, VEIDEC introduces a display with holder suitable for Alco Spray 500ml and Alco Gel 500ml with pump.
Ideal for placement at entrances and other common areas. Is easy to use and facilitates daily routines.
It is easy to assemble with the included tape and best results on cleaned and flat surfaces.
Provides a clear call to disinfect and take responsibility.
Tar Off ECO
Asphalt stains on vehicles are difficult to remove.
VEIDEC is now launching a natural cleaner that is Green World classified, renewable and biodegradable.
Its a powerful and strong cleaner that also effectively dissolves residues from rubber, grease and oil. Suitable for severe degreasing and cleaning problems on vehicles and machines.
An excellent replacement for traditional solventbased cleaning products.
Daily Soft
VEIDEC now launches Daily Soft, a superb skin cream for daily use for dry hands and severely stressed skin.
Dry, cracked skin, eczema and allergies are by far the most common health risks at work.
This makes it easier for chemicals and bacteria to enter the body and can also become chronic and completely stop professional careers.
It also causes pain and increases the risk of infections. The need for care and recovery for hands and skin after work is great but is easy to miss.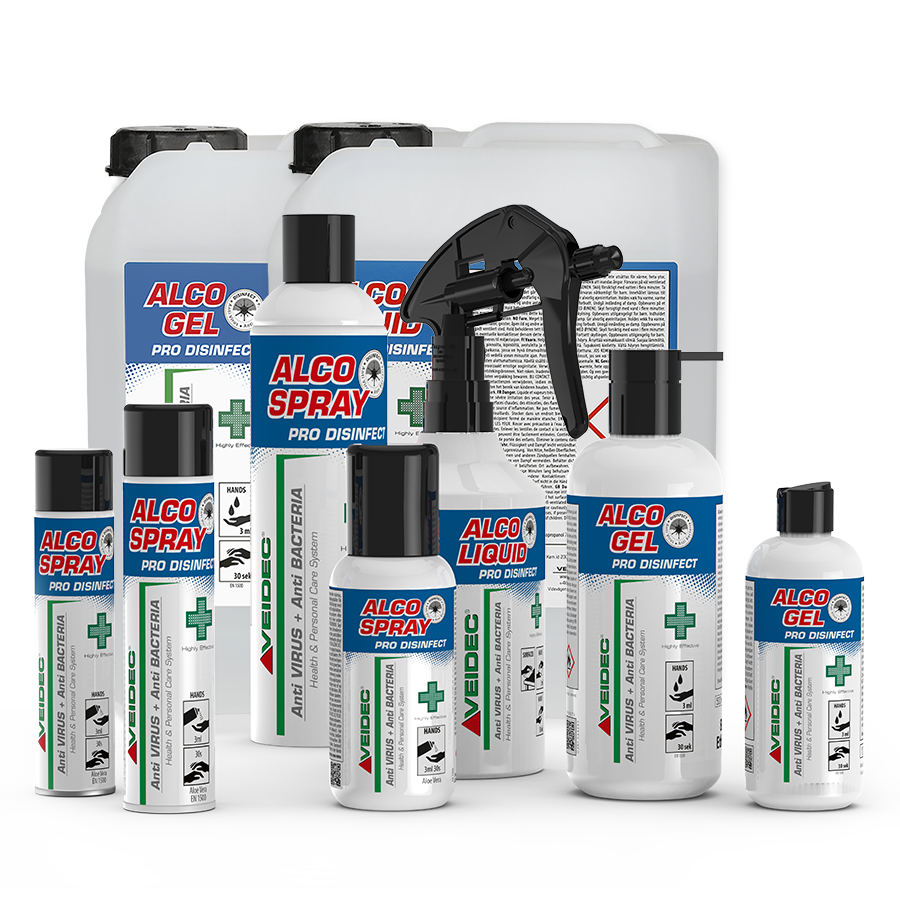 Several different products of hand disinfection
Alco Spray

Are you looking for disinfectants against bacteria and viruses?
VEIDEC is now launching a highly requested and effective disinfectant spray in aerosol packaging. The product is available in two different sizes, 75ml with softening Aloe Vera and in 500ml.
The two sizes provides a perfect combination as 75ml is developed primarily for hands and the larger 500ml for surface disinfection.
Packaging in aerosol is uncommon but has great advantages including much easier application to hands and surfaces and that the product itself is sterile.
Alco Gel 80%

Disinfectants against bacteria and viruses for hands.
VEIDEC is now launching a highly demanded disinfectant gel that effectively kills bacteria and many viruses. With additions of Aleo Vera, Vitamin B5 and Glycerin. This moisturizing and softening agent counteracts dry skin and makes it ideal for daily use.
Alco Liquid 80%

Chemical disinfectant and antiseptics for both surfaces and hands.
Avoid the spread of infection at work and in your home with Alco Liquid.
VEIDEC is now launching an effective disinfectant liquid in two sizes. 500ml bottle with trigger and 5L with tap for refill.
The sprayer trigger has adjustable nozzle and of a quality that makes it perfect for re-use together with the 5L conatiner.
Is tested and fulfill several EN tests.
Easy Off
Are you working with Chemical shift to safer products with superb function? Then immediately switch to Easy Off! It dissolves and softens remnants of adhesives very effectively from hard surfaces. Tests have also shown that it removes odd substances such as resins from trees and residues of ice hockey puck from hockey rinks. Normal adhesive removers are usually bad for the user and the environment. Easy Off is made from renewable substances, is biodegradable and Green World-rated with very low Eco toxicity. About 80% is broken down within 28 days (OECD 301C). Perfect for replacing traditional solvents with hydrocarbons and other solvents.
Flex Lube
The much wanted Flex Lube has now been re-launched. The same appreciated foaming effect and adhesion on application remains. Is nothing different from the original? Practically not at all but small changes provides a updated product that is both Green World and NSF H1 rated. Well done!
Micro Kitchen
Micro Kitchen is the ideal cloth for use in kitchen environments together with Super Foam Kitchen. It has excellent absorption properties and dries quickly to prevent bacterial growth and smell. Comes in the perfect size, 25x25cm, with reinforced edges. Very durable and long lasting.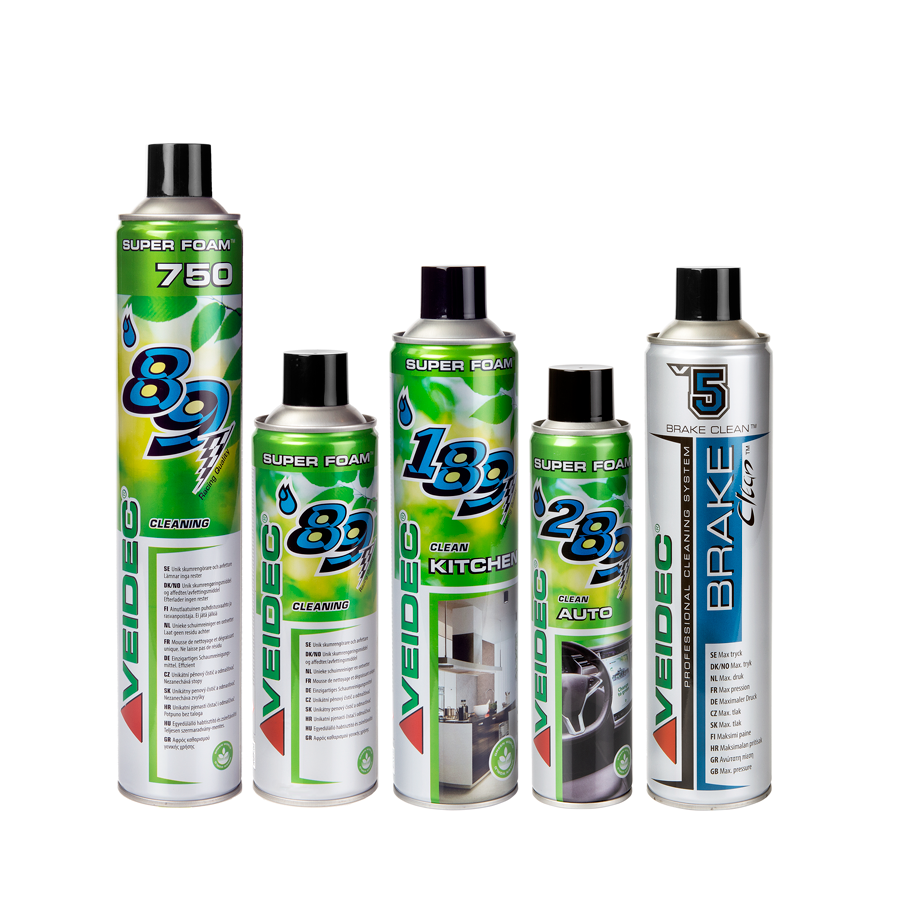 86% plastic reduction
We make our products even greener! In order to minimize the use of plastics, the traditional plastic caps are exchanged with new, smaller ones that reduces the use of plastic from 30 to 86%. As an added bonus, we will also lessen the costs for transport and recycling.